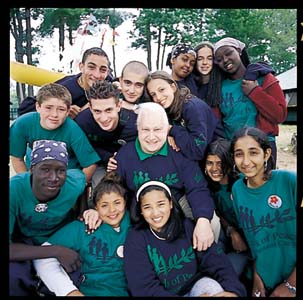 Seeds of Peace

founder John Wallach

Seeds of Peace, was founded in 1993, by John Wallach
"to provide an opportunity for the children of war to plant the seeds for a more secure future. The program focuses on Arab and Israeli teenagers from ten nations in the Middle East but has also brought youngsters from Cyprus, the war-torn Balkans and other regions of conflict to its unique coexistence program."

Seeds of Peace provides the opportunity for Arab and Israeli youth to gather and connect, in activities and programs designed to foster personal growth, as well as understanding and communication which will sow the seeds of Peace in their homelands.
"I am always trying to find the 'Seed' inside the people I meet. Seeds of Peace becomes a state of mind, a connection I try to achieve with fellow students. It is a context that allows me to encounter myself and others who help me develop my character as much as I help them develop theirs." Shouq, Jordanian
"Seeds of Peace didn't change my life - it became my life." Tamer, Egyptian
"I realize that peace is not a dream when you truly get to know who you are making peace with." Jamal, Palestinian